EUROPA STAR ARCADE – Ollivier Savéo, back to baroque
EUROPA STAR ARCADE –
Ollivier

Savéo, back to baroque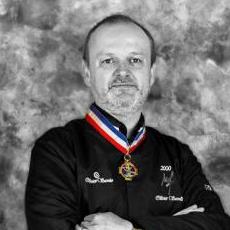 Europa Star WorldWatchWeb, 26 October 2016    Español Pусский 繁體中文
Serge Maillard
A trained jeweller who won the 'Best Artisan in France' (Meilleur Ouvrier de France) title, Ollivier Savelli created his own brand in 2014. We asked him about his very large, richly ornamented, polarising watches.
Ollivier

Savelli – Photo: Carlo Fachini
Ollivier Savelli wears an unusual work overall. Not the blue overall watchmakers usually wear –his outfit is more reminiscent of a top chef. And with good reason: this is the outfit worn by France's best artisans, complete with a rosette and medal. It turns out that Ollivier Savelli won the distinction in the jewellery category in 2000. And today, it is impossible to miss him at any watchmaking fair! "It isn't bragging, it's a way of demonstrating my fondness for the artisanal values of my trade and training. I was also a 'Compagnon du Tour de France' for several years. We travelled from village to village in France, exercising our craftsmanship on the spot."
The jeweller evolved into a watchmaker very gradually, finally creating his own brand, christened Ollivier Savéo, in September 2014. From 2004 to 2006 he worked for a consultancy in France, with a customer base of numerous large jewellery and watchmaking companies, from entry level to high end. It was in this context that he began working with Roger Dubuis, to cite one example, to develop their jewellery collections. This was when he caught the watchmaking bug, and also set himself the mission of creating greater dialogue between watchmakers and jewellers. Ollivier Savelli was then entrusted with the task of restructuring a Ticino-based company specialising in the design of clasps for watch cases, working with brands such as Richemont, among others.
AN ARTISAN AT HEART
The budding watchmaker continued his career with a trip to China, where his task was to restructure a local business working in the private-label watchmaking market. "A real culture shock!" It was after a stint with Quinting that Ollivier Savelli decided to take the plunge and create his own watchmaking brand: "I've always been an artisan at heart and I financed myself. A watch has to tell a story. For me, it was very important to build a strong bridge between jewellery and watchmaking."
OLLIVIER

SAVEO

PURE BREED
His creations are massive, richly ornamented and polarising. Their 'ogive' shape with a very large sapphire crystal produces an effect of great transparency, offering a fine panoramic view of the entire movement, which is designed as much as a decoration as a mechanism. The series, all limited to 33 items and every one unique because they are customisable,  with a Swiss mecanic movements. "With one and the same case you can create several, highly distinct worlds – automobiles with Speed F1, poetry with Butterfly or Foliage, memento mori with Skull…" One of the most original models has to be Petroleum, which represents the entire journey of oil from extraction to distribution and includes a sapphire tube to hold its owner's very own black gold! "My references range from steampunk to art nouveau."
ULTRA-EXCLUSIVE PRODUCTION
The potential customer base for these large and very impressive watches is of course stronger in the Middle East, Singapore and Russia. "My creations are close to bespoke, because I can personalise many of the elements. My customers are wealthy people who already have collections from the major brands, who are truly interested in horology and are looking for exclusive items."
So what is the bottom line, nearly two years after launch? "During the first year, my aim was to build the brand and work on the products. Now I have to build up a network." The starting price of the models is 54,000 Swiss francs: "I think I can sell half my production directly and the other half through ten or fifteen boutiques worldwide. My goals remain modest; I aim to produce between 15 and 30 watches a year." But why did he call his brand Savéo and not Savelli, his real name? "That brand had already been registered by Alessandro Savelli!
Ollivier Savéo
150 rue de Genève
1226 Thônex
Genèva
Switzerland
www.ollivier-saveo.ch


7 April 2016
News

– Ollivier Savelli's new watch brand is all about speed, oil, and butterfies

The independent craftsman – who also boasts over 25 years experience in jewellery – has launched a popular line of timepieces inspired by life's common objects, like speed, petroleum and (…)
Headlines
World Watch News | Watch Gallery / Latest Models | Retail World | Luxury Watch Brands & WorldWatchReport | Videos | Brand Spotlights
Watch Knowledge | Brand Index | Jewellery
Magazine
Current issue | Past Issues
Editorials | Cover Stories | Special Features
Europa Star Première (French)
Europa Star Watch-Aficionado
About
About us | Contact us | Advertiser Corner
Europa Star WorldwatchWeb
Terms of use | Privacy policy





Europa Star, the World's Most influential Watch Magazine, is the premier provider of international watch industry news and information. For 89 years, we have supplied watch retailers, watch distributors, watch designers, watch agents and watch manufacturers with news from the international watch industry. Our web and print publications are of interest to the specialized watch trade and the world's most knowledgeable aficionados, watch collectors and consumers. Our magazines and websites are available in several different languages, making them accessible to all international markets and an essential tool for anyone working in the watch business and all those passionate about watches.
© 2017 Europa Star – All rights reserved.