Foliage
As the meilleur ouvrier de France (French Master Craftsman) in the Jewellery – Precious Metal category in 2000, Ollivier Savelli, specialist in the applied arts, wanted to elevate the flora to his style using a dial in relief.
Ollivier hand-sculpts traditionally and consistency in a bloc of wax, then composes the flowers and their leaves, assembling one by one the elements that make up the bucolic decoration, as opposed to an industrially made product that would save both time and money. In that manner the smallest details are handmade using a binocular loupe. Certain elements are left untreated by choice in order to reinforce contrast. All the details increase the creative time and lead to supplementary difficulties, but for Ollivier these are the signs of perfection and of the love of the art that permit him to propose a work of art rather than a marketing product, a philosophy that, in his eyes, is the difference between real luxury and mass-produced products. Only the final result counts: an irreproachable quality instilled with emotion. The pistils of the four flowers are symbolised by as many diamonds set one by one by Ollivier.
Distinguished and elegant, this unique piece, made in Switzerland, offers the hours and minutes via a quartz movement, encircled by flowers and their foliage. There's little doubt that the reassuring force of rose gold and the transparency of the sapphire, make this unique ladies' watch the perfect combination of technique and refinement.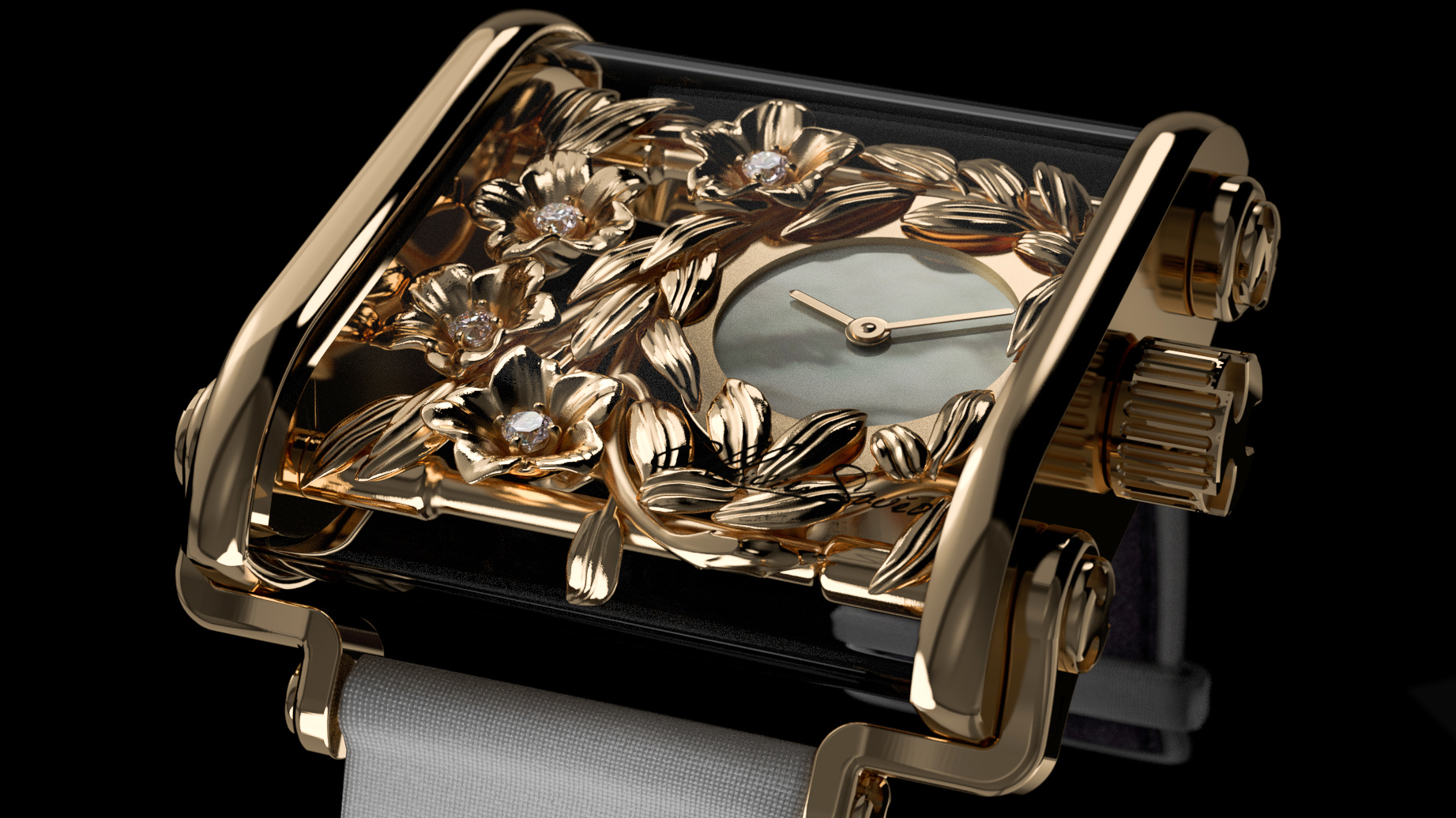 Movement
Swiss quartz movement, ETA 280
Functions
Hours, Minutes
Case
Pink gold 18 ct, 49 g
Body
Pink gold 18 ct, 23 gr
Hand engraved with 4 diamonds in flowers (0.19 ct)
Size
36×41 mm
Height
14mm
Water Resistance
3ATM
Watch Crystal
Special cut antireflective sapphire
Strap
Satin white (25mm) special cut
Other models on request
External screws
316 L Steel with coating Pink gold 18ct
Buckle
Double folding clasp, Pink gold 18 ct, average weight 15 g
Limited Edition
Unique Piece
Total Pink Gold 18ct
Average weight 87g
Optional version
Crimped case: 50 dts TW/ VS, 0.91 ct