Pure Breed
As meilleur ouvrier de France (French Master Craftsman) in the Jewellery and Precious Metal category in 2000, Ollivier Savelli, specialist in applied arts, wanted to transpose power and emotion in this Pure Breed watch.
For this unique piece, inspired by the works of the painter Omanis, Oliiivier Savelli has created a scene that shows the animal force and the natural elegance of a thoroughbred Arab horse. Working from anatomical plates in order to ensure biological perfection, Ollivier wanted to insert a very thin hand-decorated skeleton mechanical movement in order to show the movement of the balance as the mechanical heart of an automaton by going beyond the throat of the animal. Extremely difficult, this 3-dimensional sculpture had to be carefully planned to take into account the technical and aesthetic constraints of the watch.
The double-sided sculpture of the head was handmade from a bloc of wax. The anatomy appears correct, although certain elements, such as the jaw or the volume of the head, were represented as the inverse of reality for purely technical reasons. This concept was carefully calculated in order to house the trompe l'oeil sculpture in the tube of the watch.
Each detail was specially handmade using a binocular loupe to ensure the perfection of the details that the naked eye cannot see. For example, to obtain the uniform and undulating reflection of the coat, visible in the light, it was necessary to create each hair, one by one, with a regular and specific frequency. Just one of the numerous details that create the force and emotion of this piece.
At top left, a blazon allows for the client to add his logo, his coat of arms or the prize list of the horse so that the watch can be highly personalised.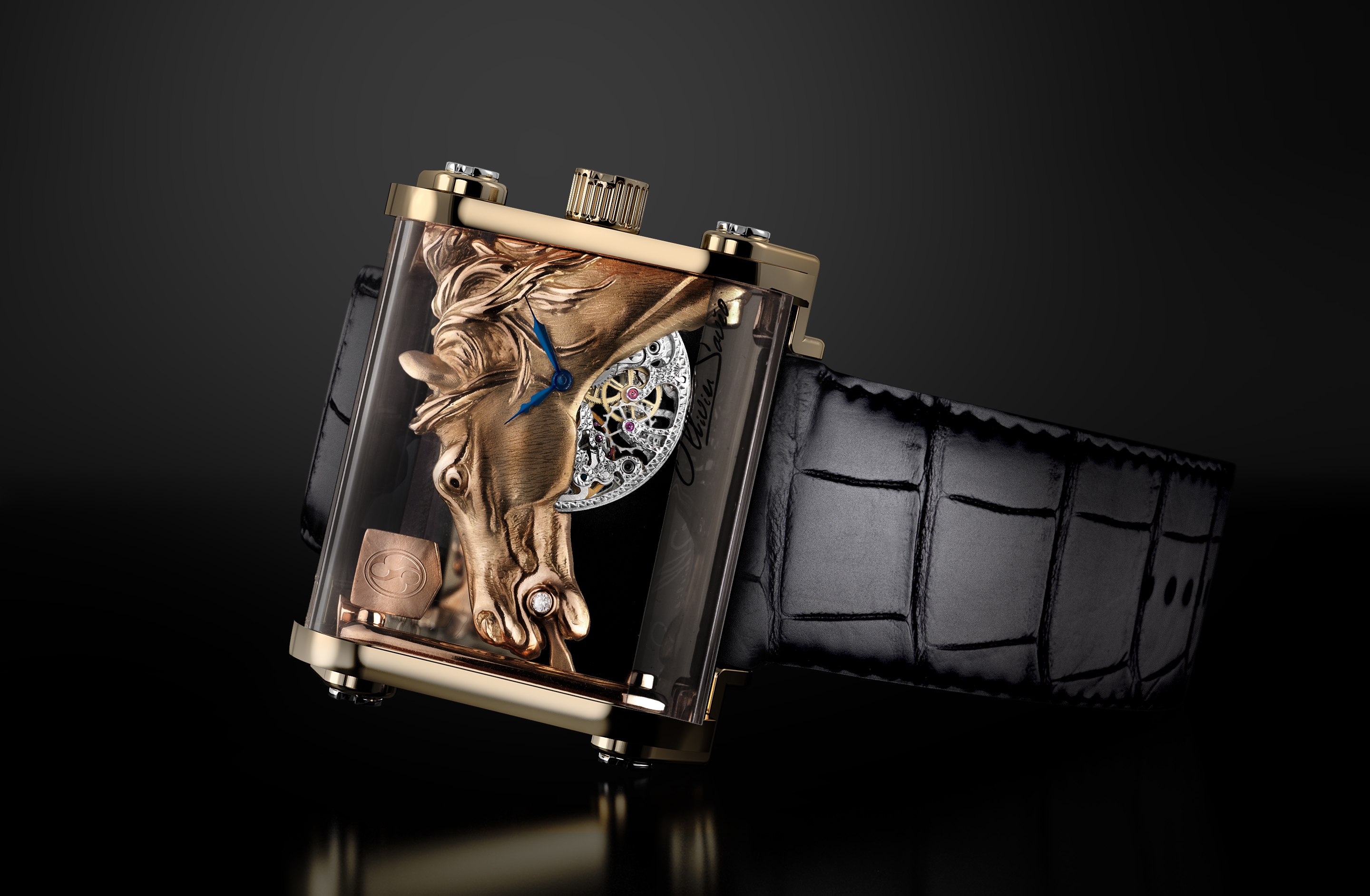 Movement
Swiss mechanical movement, 10.1/2, hand worked (squeletonized and engraved)
Functions
Hours, Minutes
Case
5N 18ct gold, 49 g
Body
5N 18ct gold, 29 gr
Creation by Ollivier Savéo, hand engraved
Size
44×41 mm
Height
14mm
Water Resistance
3ATM
Watch Crystal
Special cut antireflective sapphire
Strap
Louisiana Alligator (30mm) special cut – black color
Other models on request
External screws
316 L Steel with PVD coating, Pink gold 18ct
Buckle
5N 18ct gold, average weight 15g
Limited Edition
 unique piece
Total 5N 18ct gold
Average weight 93g
Optional version
Crimped case: 50 dts TW/ VS, 0.91 ct